Show notes
This is my first episode in a series I'm calling The Very Best Life Hacks! (I changed the title a little bit since I recorded the episode!) This week, it's all about the very best life hacks for your car.
Life hack #1: Receipt organizer [02:03]
I keep one of those handy, accordion organizers in my car to organize my receipts.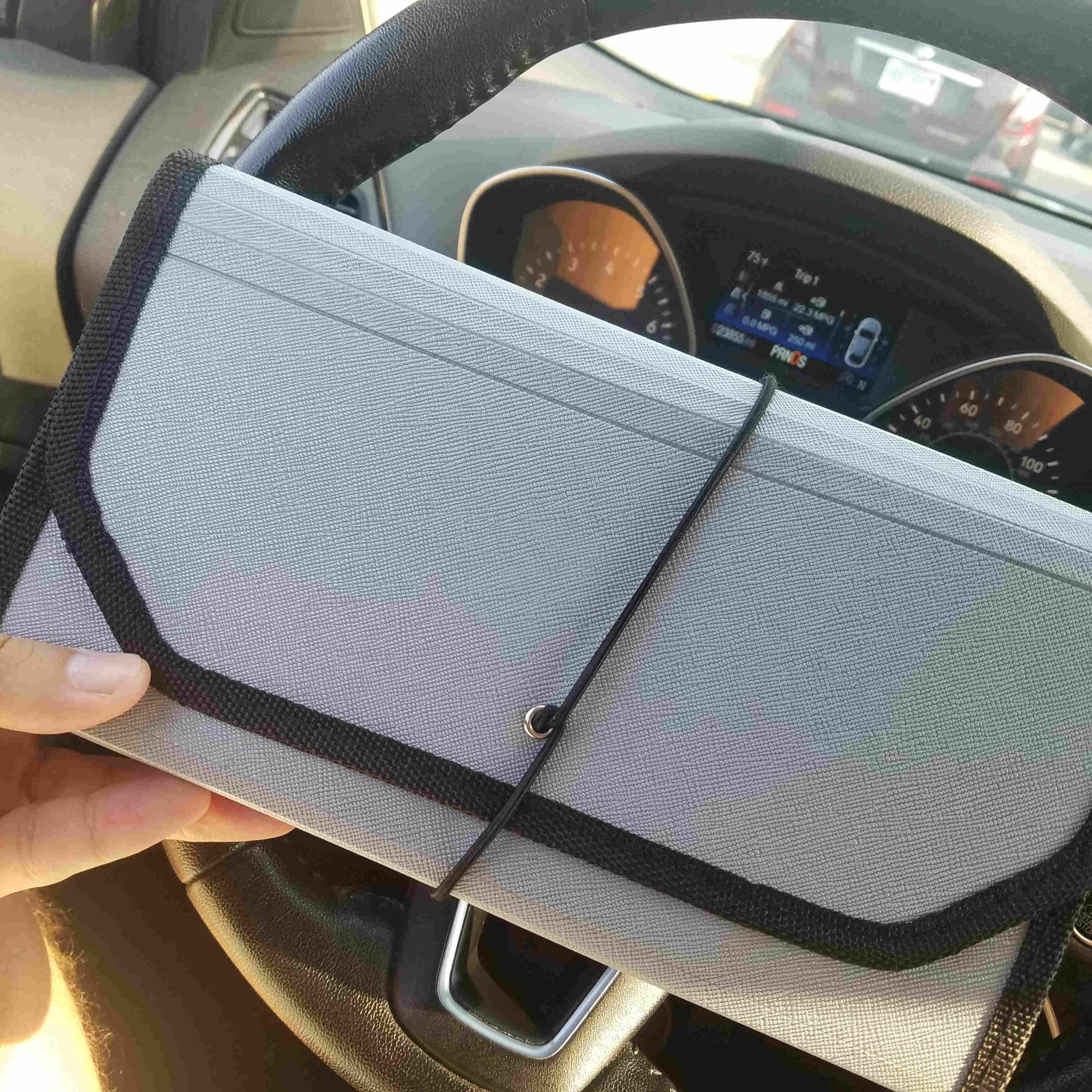 I buy the ones with month tabs, and then file each receipt at the back of the section of the corresponding month.
This way, my receipts are pretty much chronological, and I find them about 95% of the time! All I have to do is remember about when I made the purchase, and it's much easier to find!
Want one of these organizers? Click here to grab one now!
Sub-hack: Buy a new organizer each December
At the end of each year, in December, I pick up a new organizer. I get it ready for the next year, and leave it in the car.
Then, after New Year's Eve, I pull the previous one out of the car, and put that one in. I put last year's in my filing, and that way all of my receipts stay organized.
Sub-hack: Where to keep the organizer
I keep the organizer between my center console and passenger seat. It's never in the way, it doesn't block anything, and it's super easy to access!
Sub-hack: Tape the tabs
One last sub-hack: I've learned to tape closed the tabs with the months.
Because I keep the organizer between seats, and it's on its side, I found that the month labels would sometimes slide out. This sub-hack prevents that!
Life hack #2: Open both the front and back windows [08:07]
Do you like to drive with your window down when the weather is nice? Me too!
Do you hate it when you're driving with your window down and the wind is roaring loud, keeps blasting you in the face, and messes up your hair? Me too!
I discovered a neat trick to deal with this: Whenever you open your window, open the back window (on the same side of the car) by the same amount.
This way, there's a place for the air to escape, and it's much less ferocious in the car.
Test it out
Test it out the next time you're driving! Open just your front window and see how windy and loud it is.
Then, open the back window the same amount. It's super obvious how much less windy and loud it is!
Even on the freeway!
This trick even works on the freeway!
Don't get me wrong, it's still windy and loud on the freeway. But, it still reduces both by a significant amount.
This won't work so well if…
You don't have electric windows / buttons for all four windows at the driver's seat!
Apologies to those with manual windows and older cars!
Life hack #3: Keep a $5 bill hidden in your car [11:20]
This one is super simple: If you don't often travel with cash, you might end up in a situation when you really need it.
Think tolls.
My solution is to keep an emergency $5 bill hidden in my car for just such occasions.
I usually keep mine in the visor, between the mirror and the lid. This way it's hidden, secure, and won't fly away when I put the visor down to block the sun.
Don't forget!
If you end up using your emergency $5, don't forget to replace it ASAP! Otherwise, you'll expect it in the future and it won't be there to bail you out.
Life hack #4: Use a mileage tracker [14:17]
This last hack is for folks who want to track their miles. It works especially well if you lease your car and have a limit on how many miles you're allowed to drive.
I've created a really simple spreadsheet in Google Sheets (which you can download for free!) that helps with this.
After you complete the initial setup, and enter your current data, the tracker spits out info about how much you're driving!
Average / Day: This is the average number of miles you're currently driving per day.
Deviation / Day: This is the difference between the miles you're allowed to drive each day, and the actual average you're driving each day.
Estimated End Mileage:  This is the number of miles with which you can expect to end your lease.
Estimated End Cost: This is the amount you can expect to pay in mileage overage charges.
All you have to do after you set it up is update the current data periodically! This will help you see if you're over or under miles at a glance!
Download the tracker for free!
I'm happy to send a copy of the tracker to you! It's built for Google Sheets (and you can always export it to Excel, if you prefer).
Get the Free Download!
15 Strategies for Getting More Done in a Day
I have a fantastic freebie I'd love to send to you. It's a one-page guide that covers my favorite 15 strategies for making the most out of every day.
Click below to grab this download now!