Todoist is a project management tool that I fell in love with ages ago.
I have really specific ways I use it though! And they're not what you might expect.
In this post, we'll cover how I use Todoist, including 4 unusual strategies I think you'll like.
But first! Let's cover a quick hack for gift giving.
Buy Gifts for Someone? Get Their Sizes in Advance!
Make Life Easier
I'd often run into the problem where I'd go to buy a gift for Kev, and then realize I didn't remember his size.
I finally had the epiphany (based on the Three Times Rule from episode 53) to write them down in advance. This way, I've got all of his sizes and he's got all of mine. No guessing or having to decide to ask and possibly spoil the surprise.
Our size charts are kept in OneNote, and include the following:
I need to update our charts to change "shirt" to "T-Shirt", and then add Dress Shirt as an option.
How I Use Todoist: 4 Unusual Strategies
Make Work Easier
I use Todoist in pretty specific, and I'd say unusual ways.
In case you don't know, Todoist is a productivity / organization tool that "keeps track of all your tasks, projects, and goals in one beautifully simple place."
I know a lot of folks use Todoist as their primary project management tool. But, I've found that it doesn't really work for me in that capacity.
Reminders & Actions
I loosely divide my "tasks" into two categories: reminders and actions. In a nutshell, actions are things I need to do, while reminders are things I need to remember.
Example Reminders
Buy eggs
Read X book
Y product would make a great gift
Example Actions
Edit podcast episode
Do laundry
Write outline
Pay bills
#1 : How I Use Todoist : Capture Actions
Way back in Episode 31: Stop Taking Notes! Learn How to Use Mind Maps Instead!, we discussed a critical idea that's worth repeating here:
Your mind is not meant for storage. You mind is meant for creation. 
In other words, we can come up with ideas with ease, but we often forget them about .005 seconds later.
The first, and primary, way I use Todoist is for capturing actions.
You might be thinking that that's not unusual. But, given that most folks use Todoist to manage projects, it's a bit strange to think of it only as a temporary holding point for actions and reminders.
My tasks enter Todoist through all kinds of methods: Google Assistant, browser extension, Windows app, mobile app, smart watch, etc. Once there, they all end up in my Inbox.
Finally, they hang out in the Inbox until I sort them into their final spots. Some examples of those spots are #2-4 below!
#2 : How I Use Todoist : Shopping & Things to Buy Lists
I have two running lists where I keep stuff I need to buy. One is my Shopping List, and the other is my Things to Buy list.
Shopping List
This one's really straightforward. All of the stuff I've got to get at the grocery store ends up here, usually via my Google Homes.
The easiest way to get a Google Home (or Amazon Echo) to talk with Todoist is to set up an Applet in IFTTT.
To do that, head to the IFTTT site, connect your Google and Todoist accounts, and set up an Applet using those two services.
Here are the settings I used for mine:
Things to Buy
My Things to Buy list differs from my Shopping List in that it's got stuff I'd like to get other than groceries.
Mostly, it's products I see here or there that I like, but don't want to spend the money on that second.
Some examples include:
Bathroom washcloths
Kitchen towels
Clocks (to replace two that are broken)
Coffee grinder
Bidet
I use a similar setup with my Google Assistant and IFTTT like above. Same settings, just set the Which project? field to a Things to Buy project!
#3 : How I Use Todoist : Insights
The third unusual strategy I use is to keep track of insights.
To me, insights are nuggets of wisdom I discover here and there that I want to remember.
I keep them all in their own project within Todoist, and reference them occasionally.
Here are some examples:
You don't have to get it right, you just have to get it going. —Stu McLaren
One cannot learn a thing that they think they already know. —Epictetus
My philosophy is that worrying means you suffer twice. —Newt Scamander | J.K. Rowling, Fantastic Beasts and Where to Find Them
I win or I learn; I never lose. —Marie Forleo
#4 : How I Use Todoist : Gift Ideas
The last strategy I use is to keep a separate project where I drop gift ideas as I have them.
How often does it happen that you're boppin' along (don't even ask…) and suddenly you find the perfect gift for someone. But, it's like 954 days from the next special occasion.
That's when you bust out this strategy. Jot it down in this list and reference it whenever it's gift-giving time.
Also, most of the products I find are on Amazon, so I always include the link to the item too!
Todoist: It Had to Be a Favorite
My Favorite Things
After all this talk about Todoist, I had to make it one of my favorite things.
Todoist is an excellent, all-around, simple, and intuitive task and project management tool. I love that it's ubiquitous, too (i.e., wherever I need it, it's there).
Plus, the price can't be beaten. It's only $36 for a whole year to get the premium version.
But, if you grab it using any of my links, you'll get two months for free!
See all Favorites from this Episode
Ninja CP301 Coffee Pot
My Favorite Things
If you're in the market for a coffee pot, you can get no better than the Ninja CP301 Hot & Cold Brewed System.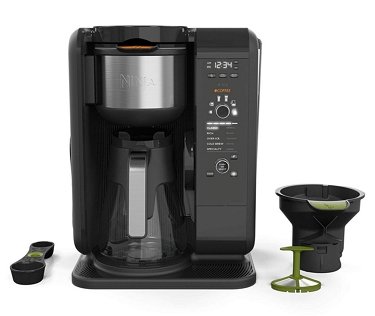 Here's why I love this thing:
It makes delicious coffee

You use regular, ground coffee!
It can make single cups (without k-cups!)

It makes delicious tea

Use loose leaves or bags
You tell it the type of tea, it brews according to the right time and temp

You can make a bunch of different cup sizes

Single cups
XL cups
Travel mugs
Carafes (half and full)

This model has a hot plate!

I had another model without one. Not nearly as good.
You have to get this model online; can't find it in stores
The hot plate adjusts itself over time so coffee never burns

It's got helpful attachments

A spoon with coffee and tea measurements printed on it
A milk frother
This machine is a bit expensive. But! If you're in the market for a coffee pot, and find yourself wishing you could make individual cups and full carafes with the same machine, this is it!
See all Favorites from this Episode
Get the Free Download!
15 Strategies for Getting More Done in a Day
I have a fantastic freebie I'd love to send to you. It's a one-page guide that covers my favorite 15 strategies for making the most out of every day.
Click below to grab this download now!