Check WiFi Networks During a Power Outage
Make Life Easier
This is a tiny life hack that can help you quickly answer the question, "Is the power out for everyone, or just for me?"
Next time your power goes out, grab your phone and open your WiFi settings.
If your network is gone, but there are still others up near you, you've got yourself a solo problem. However, if most of the other networks in the area have disappeared, the power's out for your area.
One caveat: If a neighbor's got a backup generator, there's a chance that you'll see a network or two during a widespread outage. But, it should still be pretty obvious that the power's down for everybody when most of the networks are gone.
Downy Wrinkle Release Spray (The Most Amazing Laundry Product Ever)
My Favorite Things : Life
If I had a list of my top favorite things of all time, Downy Wrinkle Release Spray would absolutely be on it. This product is nothing short of a miracle bestowed upon us laundry-hating mortals by the benevolent universe.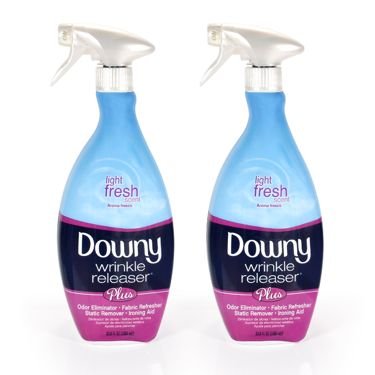 You can take shirt out of a pile, wrinkled as a raisin, spritz it with this stuff, tug at it a bit, and watch the wrinkles legit disappear.
I couldn't believe how effective it was when I first used it. And now, I use it to sub in for my iron 99.999% of the time.
The only exception is if I'm getting dressed for something formal and want the sharp creases in my pants. Otherwise, I use this.
If you hate ironing — so, almost everybody, right? — then you must try this product. You will absolutely love it.
See all Favorites from this Episode
Use the Three Times Rule to Vanquish Annoying Tasks
Make Work Easier
This is a nifty trick for making annoying tasks less… annoying. I got the idea from the awesome folks over at Asian Efficiency. Actually, I heard about it first on their podcast called The Productivity Show.
Here's the deal: Any time you've got a task that bothers you three or more times, find a permanent, systematic solution for it.
Yep, it's that simple. But, this is a guard rail that you can put up that'll help you recognize when it's time to think about making something easier.
It's a simple, remember-able cue that'll help you actually set up useful systems.
The Three Times Rule Framework
Identify a recurring problem
Identify the root cause of the problem
Find a solution that solves the root problem
Test it out
Examples of Where the Three Times Rule is Useful
Here are a few examples of how to use the Three Times Rule to make annoying stuff better:
Typing the same text over and over
I grabbed a text expander tool (aptly named TextExpander) to help me automate typing out repetitive stuff.
I've got snippets for my email address, the date, emails I frequently send, and even the headers for these show notes.
Putting things away in haphazard places
I'd often have an idea about where everything should go. But, in too many cases, I'd put things away near where they needed to go, instead of in their exact place. This caused some small, but annoying, organization problems.
An example of this is my fridge: I knew that one bin was for dairy, one was for meat, one for produce, etc. But, I'd often have to think too much about which was which, so I'd just toss things anywhere. It was minor, but it was annoying when the fridge kept getting messy.
So, after I learned of this rule, I realized a system was required: I busted out my label maker and slapped on a few labels. Problem solved!
By the way, if you want to see those fridge bins, head back to Episode 5: How to Get Organized and check 'em out!
Forgetting to take my lunch to work
Way back in Little 8: How to Never Forget Your Lunch at Home Again, I talked about the idea of putting a key object with whatever you need to remember to take with you as you leave. To get the full details on this fantastic hack, head back to Little 8.
Suffice to say though, this was a systematized solution to a repeating problem! And while I didn't have the Three Times Rule framework when I came up with the key object strategy, it would certainly have helped me create it earlier.
Keeping track of tasks
This is another area that a system has helped tremendously.
Before, I'd try to keep tasks in my head. That's a big Getting-Things-Done-By-David-Allen no-no. Your head's designed to create stuff, not store it.
So, I created my own system of various tools to help me get things out of my head wherever I am!
Again, if I'd had the Three Times Rule framework when I finally got around to setting this system up, I would likely have done it way earlier.
Asian Efficiency's Three Times Rule Video
Here's a quick video of the folks at Asian Efficiency explaining this hack:
Prop Up Your Papers with the Lost Ocean Document Holder
My Favorite Things : Work
Do you find yourself hunched over a document or book on your desk while trying to type? If this is ever you, you've got to try the Lost Ocean Desktop Document Holder.
This is a nifty little gadget that props documents or books up so that you don't have to bend over to look at them. It's excellent for entering data, for research, and for reading.
I've had one at my desk for years, and don't know where I'd be without it!
Get the Free Download!
15 Strategies for Getting More Done in a Day
I have a fantastic freebie I'd love to send to you. It's a one-page guide that covers my favorite 15 strategies for making the most out of every day.
Click below to grab this download now!